Battlecruiser 3000AD (aka BC3K), the one that started it all
IN THE BEGINNING
In October 1996, almost 10 years in development, years of hype and anticipation, BATTLECRUISER 3000AD (BC3K) was released worldwide and incomplete by its then publisher, Take Two Interactive headed by Ryan Brant. Released while still an unfinished Beta, and virtually unplayable out of the box, this action all but killed the title which then received lots of bad press as a result. It then became all too clear, though already obvious, that it had been released in Beta form in order to meet a publisher's Christmas shipping deadline.
Throughout 1997, under siege, behind enemy lines and out of ammo, a desperate and worn designer and battle torn development team and testers, worked long and hard to make the best of a bad situation in order to complete the title as it was originally intended. In the end, it became obvious that it was a pointless excercise and the development almost came to a grinding halt… the only saving graces being the tenacity of the designer and development team as well as the support of thousands of gamers who had stuck by the title against all odds.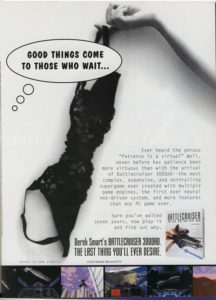 In January 1998, ahead of it going public (BC3K was 14.2% of revenues as per the SEC filing) after a legal battle that lasted more than a year, the matter was settled. 3000AD regained the rights to its property.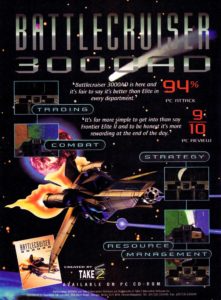 In a bid to prevent Take Two, as well as its distribution and retail partners from continuing to benefit from sales of the game, Derek also released the final version of BC3K to the public as a free download. And the game industry finally got to experience the title in a better state.
Featured and available for download on several online sites and currently available on the cd-roms of numerous magazines in different languages worldwide, Battlecruiser 3000AD was on the top Internet World charts for several weeks and as of 06.09.99 is at #2… over 49 weeks since it's release on 2/13/98. Remarkable, especially for a 50MB download of a DOS title. This same version was featured on the June issue of Computer Games & Strategy Plus, the July/August issue of PC Games (B rating) as well as numerous magazines worldwide.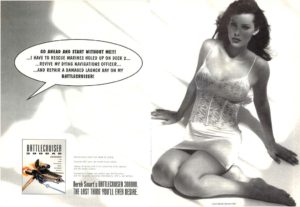 The support for the title was unprecedented. 3000AD then re-organized it's development schedule around a sequel, and a re-release of the title. BATTLECRUISER 3000AD v2.0 was subsequently announced and a contract with Interplay Productions was signed in June of 1998. The title shipped into the retail channel in December 1998 amidst unprecedented response and reviews from fans and the press alike. Initial sales exceeded Interplay's expectations as well as that of other retail and online stores carrying the title. The 60MB demo of v2.0x, released in May 1999, was the top download on most sites and had approximately 20,000 downloads in just five days. The title continued to exceed sales expectations and in October 1999 BC3K v2.08 was released in Europe by GT Interactive and it charted in the UK about two weeks later. The game was later released in other territories by Jack Of All Games and other distributors.
The first generation title of the franchise, Battlecruiser 3000AD has been featured in numerous magazine articles since it's inception in 1989. Appearing for the first time on the 1992 cover of Computer Games & Strategy Plus (now Computer Games Magazine) it went on to grace the covers of several prominent magazines including Computer Gaming World and several others worldwide.
System Requirements
Intel Pentium Processor
8MB RAM (16MB Recommended)
80MB HDD
VGA Graphics Card with 1MB RAM
DOS 5.0 or higher -or- Windows 95 DOS Mode
Microsoft Mouse
CD-ROM ROM with 2x speed
Sound card
Genre
Space & Planetary Combat Flight Sim
Platform
PC CD-ROM
Release Date
October 1996